Celebrating Earth Day One Document at a Time
Apr 13, 2023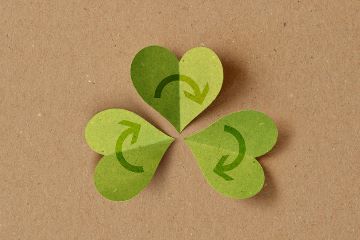 You're a fan of Earth Day and protecting the environment is a concern of yours, but making changes to your paper use seems overwhelming, and it's hard to imagine that one person's or even one company's habits are enough to make a real difference. The great news is that you can make a difference—one document at a time. Here's how you can make Earth Day your everyday.
One Thing at a Time
Implement one small change at a time. Attempting to accomplish more than you can handle is setting yourself up for failure, but implementing one change at a time is progress. Here's our easy guide to celebrating Earth Day every day.
1. Reduce
Every paper document eliminated is an improvement, taking the pressure off our forests and the environment that bears the burden of the energy and water needed for—and the harmful emissions from—paper production.
One way to reduce your paper use is to use digital documents whenever possible. Try making these changes:
Communicate by email or social media.
Provide digital reports and agendas in advance of meetings. At the meeting, documents can be projected for all to see or read from each attendee's laptop.
Convert paper forms and questionnaires to online or digital documents. This also helps reduce your need for scanning paper documents.
When a paper document needs to be shared, scan it instead of photocopying it.
Become a mostly-paperless office. Using digital records instead of physical paper will help reduce the waste, especially when documents reach the end of their retention period and need to be destroyed. Storage space for digital documents is a tiny fraction of that needed for paper documents, and a reputable hard drive destruction service can securely destroy them at the end of their useful life.
When paper is necessary, use narrower margins and print on both sides of the paper whenever possible to reduce the number of pages needed.
2. Reuse
Sometimes, when printing documents, blank pages or pages with just a period, dash, or other punctuation are accidentally printed. Saving these pages to reuse as scrap paper or other paper projects to decrease paper consumption. Use caution, though. It's important that all documents with readable information on them are destroyed by a local, NAID AAA Certified shredding service, not reused.
3. Recycle
Each and every piece of paper that is recycled instead of sent to the landfill makes a difference! Did you know that recycling one ton of paper saved 17 trees and uses a massive 64% less energy and 58% less water, creates 74% less air pollution and 35% less water pollution than producing one ton of paper products from virgin wood pulp? By joining the many individuals and businesses that intentionally recycle, your contribution becomes part of a massive achievement.
Here are a few recycling practices you can slowly implement:
Engage the services of a professional shredding company that recycles 100% of its shredded paper and gives back to our forests. Be sure to choose a NAID AAA Certified company so you know they adhere to the highest security standards in the industry, are compliant with state and federal data privacy laws, and can provide you with a Certificate of Destruction for your records in case of an audit.
Implement a "shred everything" policy. Make it easy on your employees and reduce your risk of a data breach by providing locked shred collection bins where they can discard paper documents instead of having to decide whether they are safe to drop into the recycle bin or should be shredded. Putting sensitive documents in the recycle bin before shredding is a common cause of data breaches. By shredding everything, you won't have to run that risk.
ShredPro Secure proudly serves east Tennessee and southwest Virginia's with a full suite of NAID AAA Certified shredding services. We believe that it's our job to be good stewards of the Earth Day by recycling our shredded paper and even planting new trees to keep this resource sustainable. For more information or to book shredding service, call us at 865-986-5444 or complete the form on this page. Our friendly shredding experts are standing by!