Shredding & Destruction Services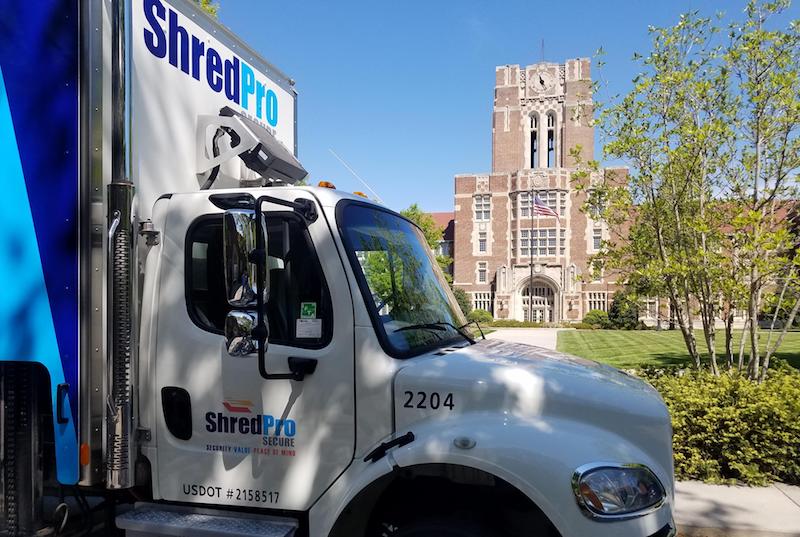 On-Site Paper Shredding
Our shredder trucks bring easy shredding right to you! With ShredPro Secure, the shredding process has never been easier. We provide two types of services for your convenience.
Hard Drive Shredding
With the continued increase of digital storage, it is critical that businesses and individuals maintain a secure process for the disposal of their electronic media. When old hard drives or other electronic media come to the end of their useful life it is imperative that all information, especially information such as bank accounts, social security numbers, proprietary information and credit information are completely destroyed. The only way to ensure that sensitive information once stored on a drive can never be recovered again is through hard drive shredding.
Community Shredding Events
Community Shredding Events can be a great way to thank your clients by providing them with a much needed service to get rid of their personal or sensitive documents safely and securely. If you are a non-profit looking for a unique way to raise funds and awareness, ShredPro Secure can help!
Medical X-Ray Destruction and Recycling
Medical X-Ray films and MRI's are considered protected health information (PHI) and must be destroyed and disposed of properly. Our mobile shredding trucks will come directly to your location and shred your confidential x-rays right on-site while you watch. Our x-ray shredding services are available to medical offices and medical providers throughout East Tennessee.
Residential Shredding
Not all sensitive documents are found in the workplace. In fact, a growing number of documents are located in residences throughout Tennessee and the rest of the United States. With identity theft cases on a concerning, continuous rise, it's crucial that these confidential documents are properly destroyed.
Drop-Off Shredding
Do you prefer to bring your confidential paperwork, files and documents to us instead of us coming to you? Choose ShredPro Secure's convenient drop-off shredding option. We're located on the west end of Knoxville. 
Seal N' Shred Bags
Looking for a work-from-home shredding solution? Our handy Seal N' Shred Bag is a secure and convenient way to shred your confidential documents. Simply purchase, drop your confidential paperwork inside, seal the bag, and bring it back to us at our convenient Lenoir City location.