How Scheduled Shredding Can Keep Your Business Compliant
Aug 16, 2022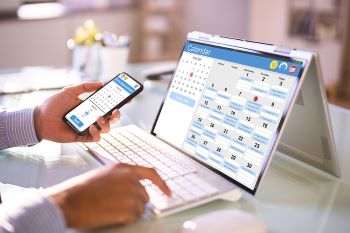 In my life and work, I follow routines. I use an online calendar to schedule appointments, events, and reminders for things that need regular attention. For instance, I water our plants daily or they wilt from the heat within two days. Every three months, I write and send a quarterly update to all my business supporters. Every six months, the furnace filter gets changed. I do my income tax return annually. Scheduling these tasks, and many others, keeps everything properly balanced and working in both my professional and personal lives.
Scheduled Shredding
In your business, implementing scheduled shredding is more than just a convenient and beneficial way to operate. It can also help keep your company compliant with obligatory privacy laws that protect consumer, medical, and financial data. State and federal laws are strict with regard to businesses properly destroying outdated information.
Federal laws that mandate the protection of personally identifiable information (PII) and health information (PHI) include:
Scheduled Shredding Helps Businesses Stay Compliant
When you have a reputable, NAID AAA Certified shredding and destruction company destroy your documents on a regularly scheduled basis, you get the benefit of the highest security standards in the industry, specifically designed to protect your data. Consider these advantages:
Retention Attention
State and federal laws spell out specific retention periods for different types of records, dictating when they should be destroyed. Keeping documents after the end of their lifecycle is another way to increase the risk of a data breach and open your business to major legal and financial risks.
A scheduled shredding service will help you destroy inactive and expired records on time. Also, when your documents are destroyed, your shredding company should supply a Certificate of Destruction upon request so you have proof of compliance in case of an audit.
Discard Vanguard
Don't wait for a data breach to happen; be proactive. With on-site scheduled shredding, discarded documents spend less time sitting idle. When discarded documents are left to sit, each passing moment increases the chance they will be lost or stolen, compromising the private information printed on them.
When you schedule your shredding, documents are picked up on a regular basis so files and loose papers don't stack up in the hallway, copy room, or on empty desks awaiting destruction. Instead, your documents will be stored in locked collection containers and destroyed at a frequency that matches your business' rate of disposal.
Container No-Brainer
When you work with a local, NAID AAA Certified shredding company, they will work with you to determine how many and what type of secure, locked shred collection containers to place around your premises. This makes it easy for employees to simply drop in documents, and even whole files, to await shredding. This keeps them from becoming a data breach risk before they are shredded on a schedule created just for you, because only the shred technician and the internal employees you designate will hold the keys. When you think about it, it's pretty much a no-brainer.
ShredPro Secure is your locally-owned, NAID AAA Certified shredding company serving East Tennessee and southwest Virginia. We offer a variety of shredding services, including on-site scheduled shredding with secure shred collection containers in various shapes and sizes at no additional cost. We will tailor a shredding schedule to fit your shredding needs.
For more information or for a no-cost quote, call us at 865-986-5444 or complete the form on this page. Our friendly shredding experts are standing by to help you!