It's Time to Outsource Your Shredding When…
Nov 17, 2022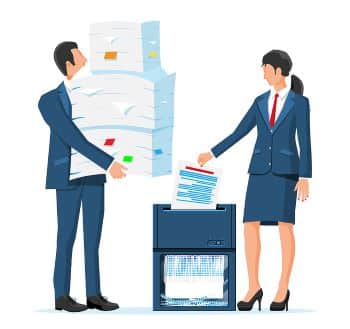 It may feel excessive to consider outsourcing shredding when you are already outsourcing so many other things. But the reason outsourcing exists is so you and your staff can focus on your core competencies and leave the other things to the experts in each field. Outsourcing shredding works the same way.
Shredding may seem like a task that can be handled in house easily and inexpensively, so why pay to outsource it? There are many reasons businesses choose outsourced shredding. Evaluate these key areas to help you decide if and when it's time to outsource your shredding.
Cost
Do you have staff who were hired specifically to shred your documents, or are employees trained and paid to focus on other aspects of your business standing at the shredder, slowly feeding paper into it? Are they spending time clearing paper jams and emptying the shredding receptacle? Regardless of how you answers to these questions, it's almost certainly costing you more in real dollars than you would spend to outsource your shredding, not to mention the cost of poor staff morale as they spend untold hours standing over the shredder instead of working in their areas of expertise.
Compliance
Is your DIY shredding process compliant with state and federal data privacy laws? Are you able to stay current with ongoing changes to these laws? Are your documents being thoroughly destroyed to the point that they can't be reconstructed?
If a single piece of private information is lost or stolen due to a lapse in compliance, your company may be liable for a data breach, including its legal and financial consequences, as stolen information from your company, staff or clients can be used to create fake IDs, access banking and investment accounts, and open credit accounts. Instead, consider engaging a NAID AAA Certified shredding company that is compliant with state and federal data privacy laws so you can be confident that the information you are responsible for is handled and destroyed in a legally-compliant manner.
Are documents protected from the moment they are discarded to the moment they are shredded? A reputable shredding company can provide locked shred collection containers for discarded documents to protect them until shredding takes place.
Proof of Compliance
If an audit should occur, your business will not only need to be compliant with data privacy laws, you must also be able to prove you have destroyed your documents in a compliant manner. This goes for active documents used and discarded in daily operations as well as documents you are required to retain and destroy at the end of their lifecycle.
Naturally, the next question is, "How do we prove that we are compliant?" It's easy when you outsource your shredding to a NAID AAA Certified, local shredding company that is able to provide you with a Certificate of Destruction showing that your documents have been completely and securely destroyed.
Recycling
When you shred in house, what are you doing with your shredded paper? Most waste management companies aren't able to recycle paper shredded using an office shredding machine because the commercial and residential recycling process is not set up to accept shredded paper. However, when a shredding company destroys your documents, the final product is sent straight to the recycling plant to be pulped and made into new paper products. By outsourcing your document shredding, you are not only keeping the paper out of the landfill, but avoiding the need to purchase and eventually discard multiple shredding machines with short lifespans.
Don't Forget Electronics
What are you doing with your old hard drives, SSDs, and electronics? There is a wealth of information contained on these media, and it's just as vulnerable to theft as paper documents, even if you've erased the data. Be sure to choose a shredding company with the ability to shred electronic media and you'll have a comprehensive solution for keeping all your information secure once it's reached the end of its lifecycle.
ShredPro Secure provides NAID AAA Certified mobile shredding of paper, hard drives, and electronics to clients in East Tennessee and Southwest Virginia. If you are looking to outsource your shredding, give us a call at 865-986-5444 or complete the form on this page. Our friendly shredding experts are standing by!