Reasons to Break Up with Your Shredding Provider
Oct 19, 2022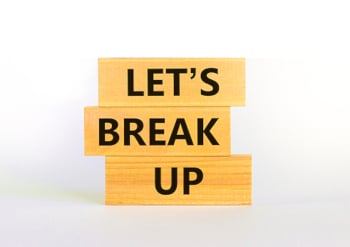 Howard Greenfield was an American lyricist and songwriter. He had a successful collaborative writing relationship with Neil Sedaka in the 1960s and together they wrote the massive hit single, Breaking Up is Hard to Do.
When relationships don't work well, breaking up really can be hard to do. Here are a few key reasons why we avoid breakups, whether it's a personal or business relationship:
Avoidance seems easier. We think tolerance and accommodation of things that aren't quite right is easier than dealing with it.
We think it will eventually get better on its own.
Confrontation is hard.
Change requires time and effort.
Fear that a change won't make things better.
Despite the fact that these reasons might feel easier temporarily, ending an unhealthy relationship that can't be repaired is better for both parties in the long run.
What is true for personal relationships is also true for business relationships, including vendors you outsource to, such as your shredding provider. If you're not 100 percent happy with them, ask yourself these questions:
1. Does your current shredding provider offer on-site shredding?
A reputable, on-site shredding provider will bring their secure mobile shredding truck to your location and shred your documents in the industrial shredder installed inside. The main benefits of mobile shredding are that your documents never leave your property and you can witness your documents being shredded.
2. Is your shredding provider NAID AAA Certified?
NAID AAA Certification separates the elite shredders from the average ones because NAID sets the security standards for the information destruction industry. To become and remain AAA Certified, a shredding company is required to meet the highest levels of security and accountability. Unannounced audits conducted by an independent third party ensure their standards never falter.
3. Does your shredding provider offer a Certificate of Destruction after each service?
A reputable shredding company will offer you a Certificate of Destruction upon request after each shredding service. This document provides you with proof of compliance with data privacy laws.
4. Does your shredding provider offer hard drive destruction?
Most organizations have hard drives and electronic media that eventually need replacing. The best and most compliant way to dispose of these is by having them physically destroyed. And what better way to have them shredded than on-site at your location in the same mobile shredding truck that shreds your paper?
5. Are collection containers provided at no additional cost?
Secure shred collection containers protect your documents from the moment they are discarded to when they are shredded. Does your shred company offer collection containers at no extra charge for both recurring schedule shredding and one-time purge shredding?
6. Is your shredding provider locally-owned and involved in your community?
When a business is locally-owned and involved in the community, everyone benefits. More of the profits stay in your community, they employ members of the community, and the very best shredding companies support local nonprofits, clubs, sports, and other community outreach and enrichment programs. A shredding provider that cares about your community cares about you and your business.
7. Does your shredding provider recycle?
How important is the health of the environment to your shredding provider? Do they recycle 100 percent of all the paper they shred, all recyclable materials from hard drives and electronic media, and even give back to the environment with efforts such as planting trees?
ShredPro Secure provides NAID AAA Certified shredding services to businesses and residents in East Tennesse and Southwest Virginia. Data Disposal Services ranked us number one in their recent list of the 9 best shredding companies. If you're thinking about making the switch to a better shredding provider or just want to learn more, give us a call at 865-986-5444 or complete the form on this page. Our friendly shredding experts are standing by to answer all your questions.